How to Make Apple Crumble Smoothie and All About its Benefits

By Team Muscletrail
10 September, 2022
I know the first thing you read and want to be addressed is the mention of the word 'benefits' in the title which also includes 'Apple Crumble Smoothie.' Now it depends on what you are pouring in your smoothie, and if they are fruits, dry fruits, a glass of milk, and a spoonful of oats, it is definitely going to be healthy. Talking genuinely, it's the efforts of oats and added ingredients that push up the rank of this apple crumble smoothie in the list of healthy meals to consume.
You can have them for breakfast, after a workout, or even when you feel the need to have a dessert. Smoothies are undoubtedly a great way to utilize the goodness of fruits and veg items like spinach bananas, peaches, and others.
Though many people have doubts before adding oats to their smoothies as they think oats won't really contribute to its smoothness, rather, it will be making it viscous, oats, on the contrary, adds to the delicious apple crumble flavor. Along with the taste, oats add to the content of protein and fiber in the smoothie. Next time you feel like having something that can keep you filled for a longer period of time, you know what to add to your smoothie.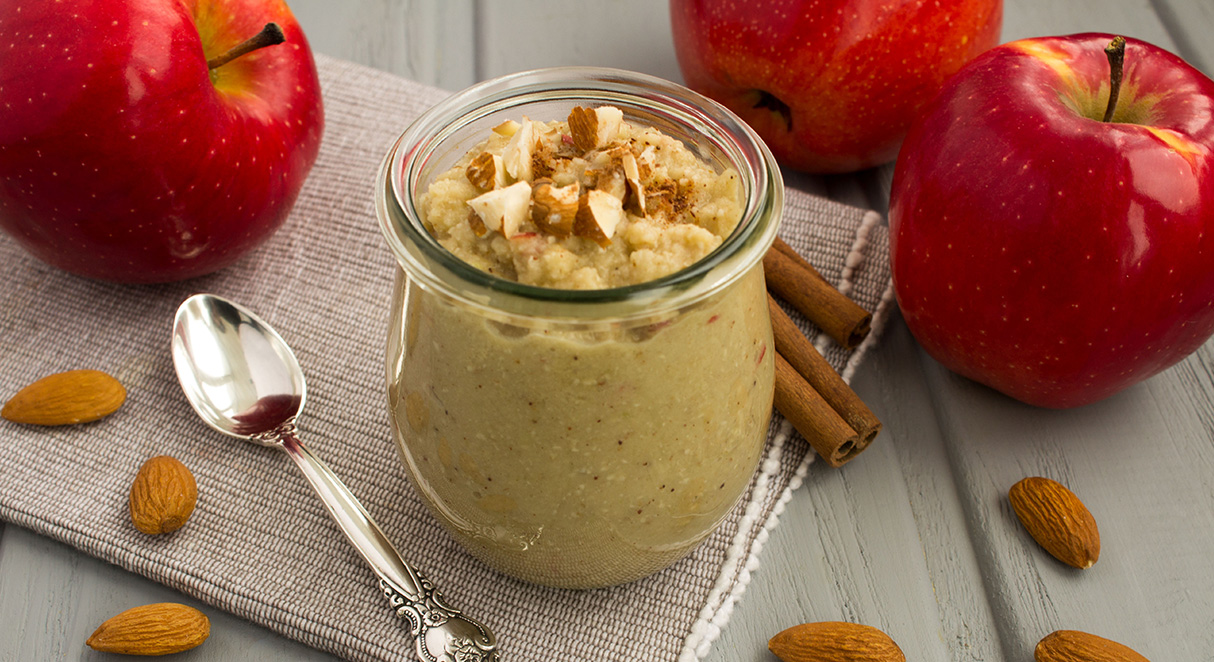 Ingredients and Combinations Towards Reaching Perfection
Moving forward to the procedure of getting our apple crumble smoothie ready, you are first required to peel a banana, followed by cutting the apple into a few chunks. Then you would require them to be poured into a blender (make sure it is high power), and then blend it till it turns smooth. To make sure that your smoothie is not warmed up by the heat released by the blades of the blender put it in the fridge for some time to enjoy it cold and refreshing.
Increase the quantity of dry fruits to make your smoothie more crunchy and nutritious as the dry fruits will be adding a whole lot of benefits to your smoothie. Also, if you don't want it to feel like a thick paste overall, don't forget to add more milk, as milk is the substance that will be responsible for the thinness of your perfect blend.
You can experiment with the types of milk to include in your drink as there are numerous available out there, such as almond milk. Try out different pairs and come up with the best version of your favorite and healthy smoothie. This meal will save a lot of your time indeed, but in addition to this, it will contribute significantly to your goal of leading a fit and healthy lifestyle due to the ingredients present in it.
As you understand the fact that it will be really hard to mention some numeric details regarding the nutritional profile of the apple crumble smoothie, as it totally depends on the ingredients you choose to add to the smoothie like the oats, banana, cinnamon, apple, and milk.
Make changes to this recipe often to extract the best-tasting apple crumble smoothie. You can add berries, yogurt, green tea, and even chocolate-flavored Muscle Trail Whey Protein to take the nutritional profile of your smoothie to next level. There are no set ingredients or recipes to make a delicious and healthy smoothie, you have a lot of options here.
How to Make Your Perfect Apple Crumble Smoothie
Here are some steps that you can follow to make an amazing post-workout or breakfast smoothie. You would require:
¼ cup of low-fat milk. You can even choose full cream milk in case you are not the guy who feels bloated after consuming dairy products
½ cup of Greek yogurt. Choose from the multiple flavors and don't forget to do a tasty experiment
¼ cup filled with oats. It would be better if the oats are fast dissolving or quick oats
1 apple cut in half. You can choose to peel if you specifically want it, otherwise, there exists no issue
1 peeled banana. Of course, we are not making a paste here
¼ tablespoon nutmeg
¼ tablespoon cinnamon
After this, put this all in a blender and blend it until you are completely sure that there are no lumps left in the smoothie and it is completely smooth and soft.
In case you want to have a green and healthier smoothie, follow this recipe.
One banana to make the smoothie thick and give it a creamy texture
Avocados for extracting healthy fats
Greek yogurt. We don't need to question the added benefits of greek yogurt
Spinach or kale, or both, is completely your choice. Should share mile presence in the smoothie
Berries, blueberries, grapes, strawberries, or even peaches to make it sweet. Whatever you choose will interfere with the color of your smoothie
Muscle Trail Whey Protein Powder. In case you want some flavored chocolate or vanilla integrated with high-quality protein
Milk for ensuring the streamlined flow of the smoothie in your body
There are innumerable ingredients to try and combine to get your perfect blend, but there is no denying the fact that now you can have a delicious and healthy smoothie whenever you want, provided the required ingredients are handy, after reading this blog.